By James Nault, Legal Insurrection
While I was on vacation I had the pleasure of representing Legal Insurrection at an event in Scottsdale, Arizona produced jointly by Stand Together Against Racism and Radicalism in the Services (STARRS) and the Arizona Women of Action (AZWOA).
Speaking at the event were Kim Miller, Founder and Director of AZWOA, Dr. Ron Scott, PhD, Col, USAF (Ret.), President and CEO of STARRS, and most importantly Matthew Lohmeier, a familiar face around Legal Insurrection.
Last December we held a live seminar with Lohmeier, a former Space Force Lieutenant Colonel squadron commander who was fired, forced to resign, and and subjected to an Inspector General investigation within the Pentagon after publishing his bestselling book, Irresistible Revolution: Marxism's Goal of Conquest & the Unmaking of the American Military, which tore the lid off the military's obsession with racist and radical "woke" ideologies.
The seminar we held, definitely worth watching, and titled Saving the Military Service Academies from Wokeness, can be viewed here:
Matthew Lohmeier's excellent Twitter feed can be found here. . . . .
. . . . . In his speech, Ron gave a run-down of everything STARRS has on its front-burner, and to stay up-to-speed on the latest and greatest, you can subscribe to STARRS' weekly newsletter here.
Last but not least was the evening's guest speaker, Matthew Lohmeier.
Matthew began by talking about the drag shows at Nellis Air Force Base in Las Vegas, Nevada, which we reported on here, in 2021, U.S. Air Force Base Asserts Drag Queen Promotes "Readiness of the Military," and here, in 2022: Air Force Base Hosted Drag Show During its 'Diversity' Festival.
As Matthew explained, earlier this year, an Air Force servicemember stationed at Nellis called and informed him that yet another drag show was planned for Nellis in early June 2023 to kick off this year's "Pride Month" celebration. Lohmeier sprang into action, calling members of Congress and informing them that the drag shows were imminent. This led to the drag show, and others like it, being cancelled.
We had reported on those cancellations here: DOD Cancels On-Base Drag Shows – Leftist Outrage Noticeably Missing.
Matthew Lohmeier during his presentation: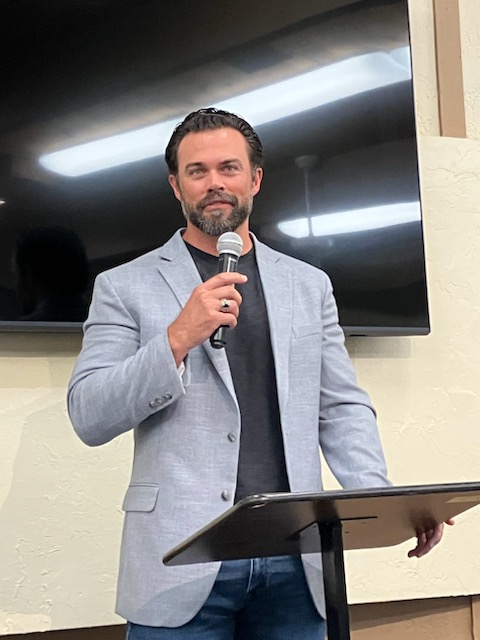 Most importantly, Matthew Lohmeier explained to the crowd that there is a full-length motion picture in the works to be released in 2024. He showed a four-minute trailer of the movie, which tells the story of Matthew's summary dismissal from Space Force after his tell-all book was published, and it was absolutely fantastic. Unfortunately, because the trailer is likely to go through some editing and updating as the movie production continues, it likely won't be finalized for viewing audiences until later this year.
Matthew also covered many of the disheartening trends we are seeing in the military these days regarding CRT, DEI, and transgender issues. The types of issues Matt discussed are unfortunately becoming common knowledge among Legal Insurrection readers, as we have reported on most, if not all of them. For example, see:
To learn more about Matthew Lohmeier and his story, or to ask him to speak at your local event visit his web page, available here.