Matt Lohmeier is a highly sought-after public speaker and is available to speak to your organization or group about a variety of topics related to the crisis of Marxist-rooted CRT/DEI/Woke ideology infecting our nation and military services, including the academies.
Do you live near a military base or service academy? Consider bringing Matt to speak and invite those at the base to hear what he has to say. In a normal world, these bases would sponsor his talk at the base, but after fighting against Marxist ideology for over 70 years during the Cold War, they have now been hijacked by this same ideology.
As the "first veteran" of the Space Force and serving as an aide-de-camp to a four-star general who would later because the first commander of the force, Matt can also talk about the Space Force as well as the Air Force, flying fighter jets, and the US Air Force Academy, of which he is a 2006 graduate.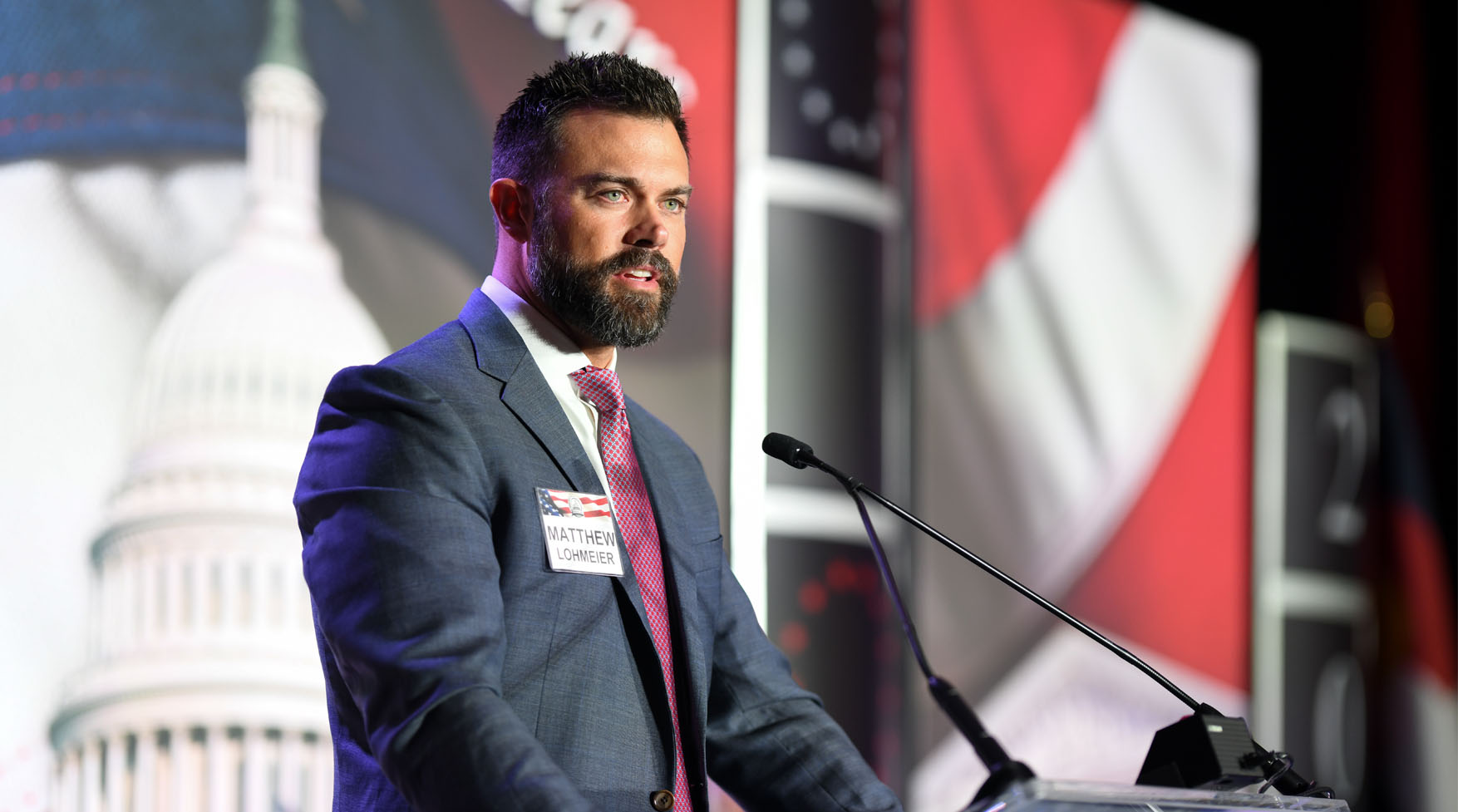 Topics Matt can speak on:
Matt is booked to speak about a range of issues including:
Marxist critical race theory
Military culture and how to solve our ongoing military recruitment and retention crisis
Various national security-related topics
Global politics
The Russia/Ukraine conflict
The China threat
Planetary defense
Space Force
and more
Example of a talk by Matt
Matt spoke at the Women for Freedom Summit in Dallas, TX in October 2022.
Matt has been interviewed by:
Tucker Carlson
Steve Bannon
Laura Ingraham
Glenn Beck
Jesse Watters
Sean Hannity
Gov Mike Huckabee
Seb Gorka – America First
Dinesh D'Souza
Lawrence Jones
Frank Gaffney
Fox News
Newsmax
Patrick Bet-David Podcast
Epoch Times
Epoch Times TV American Thought Leaders w/Jan Jekielek
Rob Maness Show
STARRS Intellectuals
CD Media w/Todd Wood
Bold & Blunt w/Cheryl Chumley
Frontlines of Freedom w/Denny Gillam
Matt has spoken to organizations in these cities:
Arizona Women of Action, Scottsdale, AZ
Tucson, AZ
Washington, DC
Leesburg, VA
Colorado Springs, CO
Colorado School of Mines
Women for Freedom Summit, Dallas, TX
Miami, FL
Vero Beach, FL
Nashville, TN
Lexington, KY
Idaho Republican Party, Boise, ID
Sun Valley, ID
Westchester, NY
Virginia Beach, VA
Palm Springs, CA
Salt Lake City, UT
Oklahoma Conservative PAC, Oklahoma City, OK
Tulsa, OK
Kingfisher, OK
Davenport, IA
St Louis, MO
West Point, NY
Online:
Legal Insurrection Foundation
Heritage Foundation
Freedom Alliance
What People Are Saying About Matt's Talks
"Matt Lohmeier's profound story is enough to capture an audience. But he draws us further in by his thoughtful questions and perspective, leaving people pondering what it means for them–and wanting to do something about it."–Kim Miller, Founder and President, Arizona Women of Action
"This was a powerful, compelling, riveting, honest, truthful discourse. I wish every impressionable, visionary youth could benefit from hearing this brave patriot's story. Lt. Col. Lohmeier is a clear eyed, brilliant communicator!!"
"An amazingly intelligent, articulate, honorable, and truly inspiring, wise gentleman! Listening to him calmly and clearly explaining the situation leaves me in awe."
"Incredibly inspiring! He is right on, we can stand up individually in our own spheres of influence."
"Superbly eloquent explanation of exactly what is going on at ground level. This is a fight between good and evil and deciding which one will prevail."
"What an excellent, informed speaker. I really enjoyed listening to him."
"What an intelligent, insightful and Godly man. I could listen to him for hours. Such an important interview and so well done!!!"
"That was an exceptional and very interesting, so knowledgeable and I am thinking how much people can learn from somebody like him. It was awesome and he is so well-rounded in his perceptions in his own thinking and processes of assessment of issues. And so astute in the way he encapsulated details and gathered all those strands of the issue. I'm amazed at this guy really am and it takes a lot to impress me."
"This man speaks so well with such great information."
"What a truly amazing man. He is inspiring he his honest he has sacrificed he is a true patriot. It bought me to tears . This is amazing. Thank you for your service Matthew."
"Bravo for this Air Force officer. He's not afraid to speak the truth at whatever the cost. I support him totally as I'm sure many others do. Thank you for being unafraid. Thank you for being an American!"
"Lt. Col Lohmeier is so articulate, measured and patriotic. He really is an exemplary, courageous and inspiring man."
"Our organization recently hosted Matthew for a 400 plate luncheon. He brought us a great speech and was extremely motivational while giving us a firsthand look at the military in today's world. We are anxious to have him back to continue the story!"– Joy Miedecke, East Valley Republican Women's Federation
"He was so well spoken and a joy to listen to. I'm buying his book!!"
"This man is the voice of reason."
"Matthew is articulate and sincere, easy to listen to and well researched. We need more real men like him."
"Very informative interview. His knowledge of strategy of indoctrination is impressive. His ability to communicate what we should be paying attention to is useful."
"We need many more Matthew Lohmeier's. Brilliant man with passion and the courage to uphold, defend and protect our Constitution."
"Wow. What an intelligent and well versed speaker. You don't find that very often in the workplace."